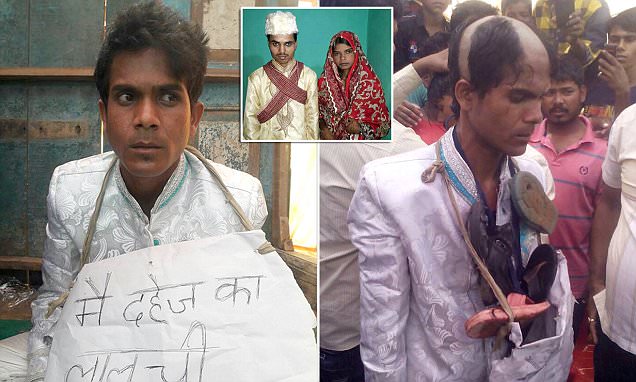 A husband was divorced after three hours and had his head shaved as a punishment after his wife said he was 'greedy' and married another man on the same day. Rubana Parveen, 18, married Muntaj Ansari, 26, on Wednesday morning, in Chandwa village, in eastern India. But after the traditional Muslim nuptials the auto rickshaw driver started demanding a huge dowry and insisted on buying an expensive motorbike.
The bride's father, Bashir-ud-din Ansari, 58, who owns a hotel, had already bought him a motorbike but Muntaz wasn't satisfied and demanded a better model.A witness said: 'Everyone kept telling the groom to calm down and tried convincing him to accept what he was given.  'But he kept threatening to go home without his new bride. The groom and bride's father were arguing a lot. It was a crazy scene.'
Bride Rubana decided to call a local 'Qazi', also known as a Muslim judge or adjudicator, and with her family's support she declared an open 'Talaaq', which is a Muslim divorce. Bashir-ud-din said he made sure Muntaj's family return all gifts and dowry money already paid.  Muntaj's family were so ashamed they wrote a letter of apology promising to return everything.Local residents were outraged with Muntaz's behavior and as a punishment they made him wear a garland of shoes with a placard reading: 'I am greedy for dowry'.
The placard around Mr Ansari's neck reads: 'I am greedy for dowry.' Pictured, Mr Ansari's brother also had his head shaved because of his sibling's actions
The motorbike bought by Bashir-ud-din for Mr Ansari. But the groom wanted a better model The father-of-four later arranged for another local man to marry his daughter.
Later that evening Bashir-ud-din, who is a father of four, arranged for another local man to marry his daughter.He contacted the family of Mohammed Elias, 25, who lived 25kms from Rubana, and arranged for the pair to marry that same evening. That night wedding celebrations continued as planned.Bashir-ud-din said: 'I've no regrets for what has happened. I'm just happy that my daughter doesn't have to spend the rest of her life with that greedy man. 'She's now thankfully very happy she's married and I bless them for life.'
Rubana Parveen during her second wedding ceremony in a day.