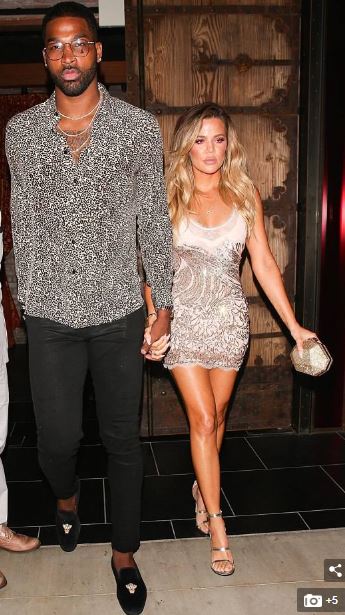 It is no longer news that Tristan Thompson cheated on his girlfriend Khloe Kardashian, who gave birth to his daughter True last week.
And now a source has told Us Weekly about his alleged technique, claiming the 27-year-old love rat 'slides into girls' DMs' on Instagram.
'He messages girls that way, on Instagram, and then meets up with them. He likes exotic or non-American-looking girls with big butts,' the insider dished.
Less than 48 hours before Khloe delivered Tristan's baby, DailyMail.com published footage of him apparently kissing strip club bartender Lani Blair.
The smooch took place the night of April 7 at the Penthouse at Dream Downtown – and a video recording shows that on April 8's wee hours, Tristan and Lani entered the Four Seasons in the Financial District, where he was staying.
On the night of April 8, the pair were also filmed heading to the New York branch of private members' club Soho House, then arriving around 5am on the 9th at his hotel.
On April 10, TMZ ran surveillance footage from a hookah lounge near America's capital – and in it was more evidence of Tristan's apparent gallivanting.
He could be seen sitting on a bench with two women. One kissed him, while the other one shoved his head between her breasts and later touched his groin.
He already has a one-year-old son called Prince by his ex-girlfriend Jordan Craig, whom he broke up with during her pregnancy with his firstborn.
Khloe, who previously lived in Los Angeles, recently relocated to Ohio to move in with Tristan, whom she began dating before Jordan had even given birth.
Khloe is still living with Tristan despite the scandal.