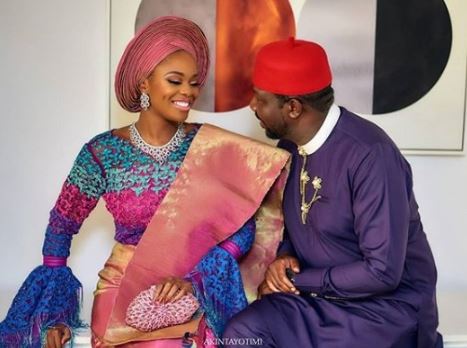 Zainab Balogun's Husband is Dikko Nwachukwu, he is a businessman with lots of achievement under his belt both business wise and personal wise. He got married to media personality/actress Zainab Balogun on the 13th of May, 2018. He has shown he his a serial entrepreneur that is always scouting for new opportunities, which is why he is so successful.
These are 9 things you didn't know about him.
1. He was born 1973 to an Igbo father and Yoruba/Kalabari mother.
2. He loves to be called by his full name which is Chukwuneme Mohammed Dikko Olayimika Dienbo Nwachukwu, which shows his wazobia nature and love for cultural heritage.
3. He had his early schooling in the UK, then moved to the US to attend the University of Massachusettes, bagging a degree in Economics and Political Science.
4. He has worked in several top Nigerian organizations including Aero Contractors, where he served as the Chief Commercial Officer, Red Investments and among others. He has also served at the office of the Abia State Government as a special adviser of trade and investment.
5. In 2015, he set up his own company, JetWest Partners, which expanded to JetWest Airways in 2016. He received his license to fly his jets in 2017.
6. In 2007, Dikko got married to his first wife Funmi, and they were blessed with two children, Ethan and Eli born on July 24, 2008, and January 31, 2011, respectively.
7. Dikko lost his wife in 2015.
8. Dikko married media personality Zainab Balogun on May 13th, 2018, a sign that he found love for the second time.