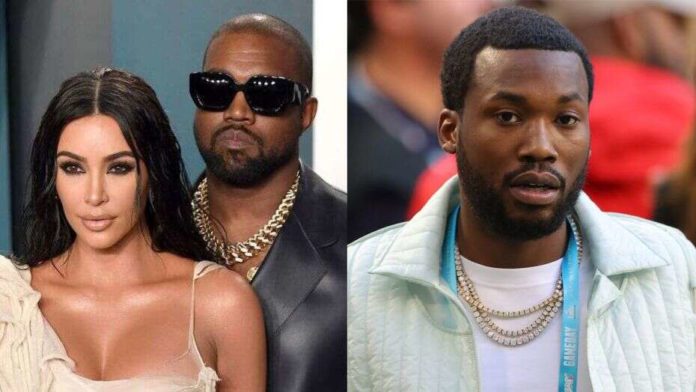 Meek Mill seems to have responded to Kanye West's suggestion that he slept with Kim Kardashian, essentially calling the rapper/fashion designer a liar.
West insinuated that his wife had a tryst with Meek as he told Twitter he's been 'trying to get divorced' from the celeb during another tangent on Tuesday night.
Mill was succinct with his response Wednesday afternoon, tweeting: 'Sh** is cappp cmon,' cap being slang for a lie or liar.

A Tuesday tweet from Meek also seemed to address the situation, saying: 'Sh** got too real I had to cut a couple ends….'
That evening Kanye claimed he has been 'trying to get divorced' from Kardashian since she met Meek at LA's Waldorf Astoria hotel to discuss prison reform.
According to TMZ, Kim did gather people to talk about reform at the hotel, but it was never a one-on-one encounter with Meek. Sources say they were joined by philanthropist Clara Wu Tsai at the hotel's Jean-Georges restaurant.
After a discussion about the movement Kim immediately left the hotel solo, according to witnesses.Kim earned glowing praise from Meek Mill last year, when the rapper called her a 'friend' and hailed her for 'doing a lot of good work' on prison reform, but the nature of the alleged hotel meeting is not clear.