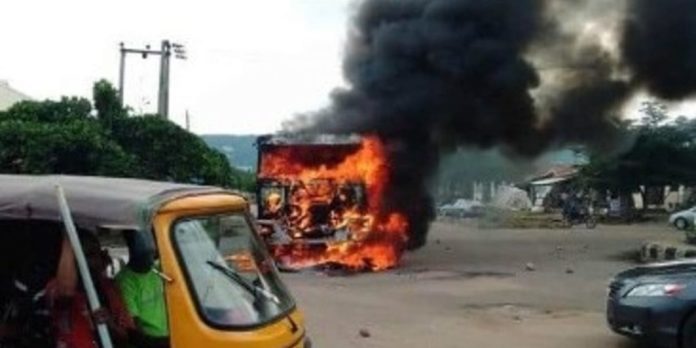 A truck belonging to Dangote Cement Company was on Tuesday set ablaze in Lokoja, the Kogi State capital, following the killing of a father and son.
Eyewitnesses told our correspondent that the truck was about negotiating the bend leading to the Zone 8 when it lost control and crushed a pedestrian and his two sons, who were standing by the roadside.
While the middle-aged man and one of his sons were crushed to death, the other son reportedly escaped unhurt.
It was gathered that onlookers, who witnessed the accident, set the truck ablaze.
The state police command said the truck driver lost control at the Zone 8 roundabout and crushed a pedestrian and injured one other person, who was receiving treatment at a hospital.
The state Police Public Relations Officer, William Aya, who spoke to our correspondent on the telephone, said people in the area took the law into their own hands and set the truck ablaze.
Aya confirmed the death of one person, but said the identity of the injured person could not be immediately ascertained.