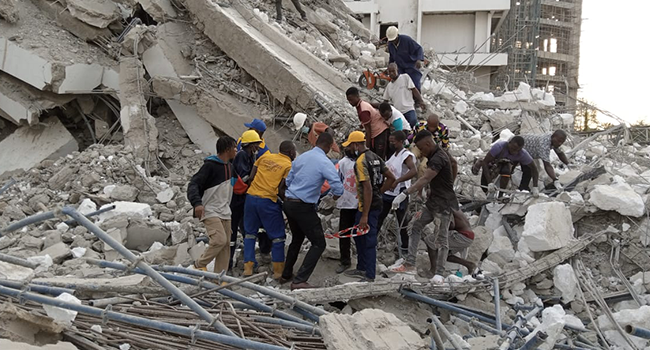 No fewer than 10 persons were feared dead on Monday when a 21-storey building collapsed on Gerard Road in the Ikoyi area of Lagos State.
As of the time of filing this report, many people were still trapped in the rubble, including the Managing Director, Fourscore Heights Limited, Mr Femi Osibona, who owned the building, and some of his clients and engineers.
PUNCH Metro gathered that the building crumbled around 2pm when workers were on the site.
One of the workers who survived the incident, Gabriel Bassey, told one of our correspondents that about 50 persons were still trapped in the rubble.
He said, "This project, 360 Degree, was built by Fourscore Homes Limited. I was trying to plug my phone and not up to five seconds that I left the spot, I saw the building coming down and I ran to safety. We have a lot of people trapped in the rubble, who we need to bring out.
"When the incident happened, we brought out six dead bodies and we still have like 30 Togolese and Nigerian bricklayers and four engineers and other workers. My boss, Mr Femi, is still trapped in the building. He was on the 18th floor with some of his clients, who wanted to buy the building, when the incident happened."
A resident, Morris Ashiobi, said the building did not show any sign before it caved in.