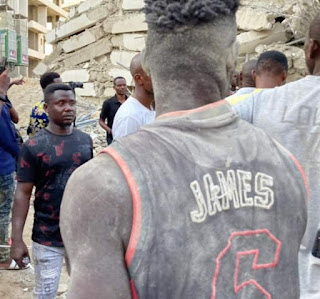 A multi-storey building developed by Femi Osobona earlier today collapsed in the high brow Ikoyi area of Lagos State.
Billionaire property developer Femi Osibona, popularly known as Four Score, along with his friend Wale Bob, aides, police escorts and construction workers were in the building when it collapsed.
The building collapse comes few days after the structural engineer withdrew his services because Femi Osibona reportedly declined on following due process.
According to an eyewitness, few minutes before the building collapsed, one side of the pillars broke and made a loud noise as the whole building came down.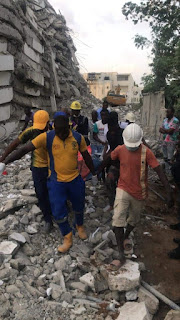 Meanwhile, the cause of the collapse has not been ascertained.
Funny enough, the building was sealed by the Lagos State Government last year July to "prevent another calamity". Unfortunately, it appears the building was later unsealed and construction continued until it collapsed today, November 1st, 2021.
At the time, a source was quoted as saying that the State Government took the action to seal the building in order to ensure that what happened with Lekki Gardens Estate when its on-going six-storey building collapsed on March 8, 2016 would not be witnessed again in the state.
Watch him Femi Osibona speak on the structure weeks before the collapse