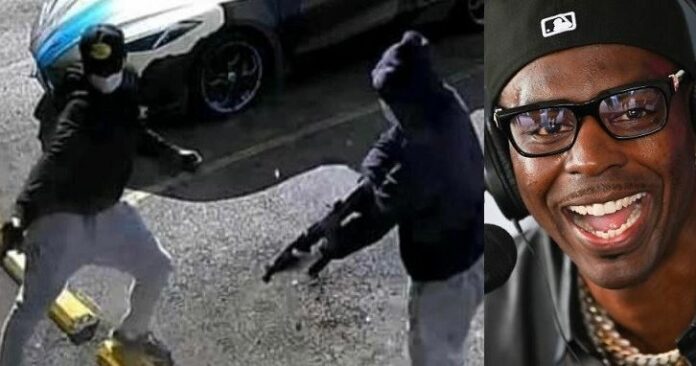 Police in Memphis have released surveillance footage of the two gunmen who shot and killed Young Dolph at a local cookie shop on Wednesday afternoon.
The shooters, whose identities are currently unknown, wore masks and hoodies to hide their faces. One of the individuals used a Draco AK-47 pistol, while the other fired a handgun. After the shooting, the two men fled in a light-colored Mercedes.
According to the Associated Press, police have launched an intensive manhunt to find the shooters, but as of now have not publicly released any information on their identities or possible motives.
Amid concerns over a potential retaliatory attack, Memphis Police Chief Cerelyn CJ Davis encouraged residents to stay home on Wednesday night, and cautioned that the police department may call for a city-wide curfew "in the case of acts of retribution." In one pre-emptive move, officers temporarily shut down a Memphis restaurant owned by Young Dolph's longtime rival, Yo Gotti.
Maurice Hill, the owner of the shop where the shooting happened, Makeda's Butter Cookies, told FOX13 his employees said Young Dolph, 36, walked into the store to buy cookies. Someone then drove up and then shot and killed him around 1 p.m. on Wednesday at the bakery in South Memphis.
The rapper has been targeted in the past. Back in 2017, he was struck by multiple bullets outside a shoe store in Hollywood, getting hit in the arms and buttocks, requiring surgery.
Earlier that same year, Dolph's SUV was shot over 100 times while he was in Charlotte, NC in a shooting that saw an arrest warrant issued for Blac Youngsta, who later turned himself in. The charges against BY were eventually dropped.
The rapper, whose real name is Adolph Robert Thornton, Jr. is well known in the Memphis community for handing out turkeys around Thanksgiving, speaking to school children, and donating money to his former high school Hamilton High School.
In 2016, he released his debut studio album, King of Memphis.
Dolph leaves behind a son and a daughter. He was only 36.