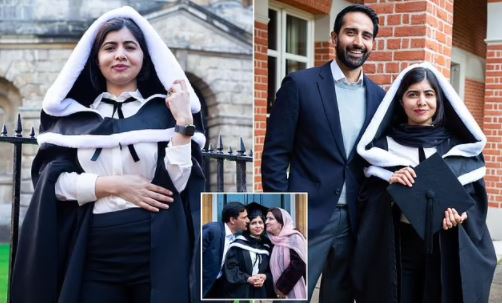 Malala Yousafzai graduated from Oxford University with a philosophy, politics and economics degree on Friday, nine years after being shot by the Taliban after campaigning for girls to be to be educated in her native Pakistan.
The youngest ever winner of the Nobel Peace Prize, now 24, took to Instagram to share moving pictures of her graduation ceremony, which was initially due to take place in May 2020, but was delayed by Covid and moved to the Autumn of 2021.
Malala was seen posing in her hat and gown as she stood by the university, as well as alongside her proud parents Ziauddin Yousafzai and Toor Pekai Yousafzai and new husband Asser Malik.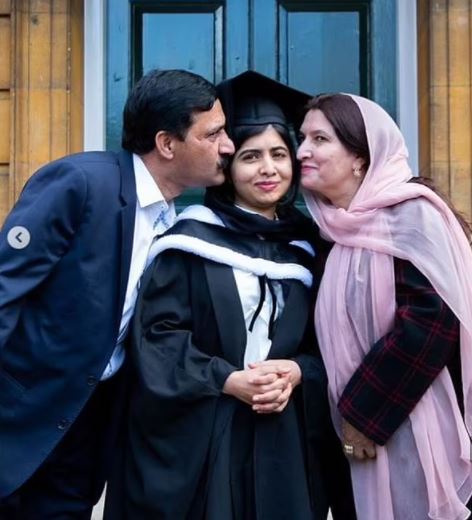 It comes just months after the Taliban excluded girls from returning to secondary school and replaced Afghanistan's women's ministry with an all-male 'vice and virtue' department.
The post racked up over 600,000 likes and thousands of messages of congratulations from her followers.
Malala's new husband also celebrated her graduation with two photos to Twitter, writing: 'The place we first met felt a little more special on Malala's graduation day'.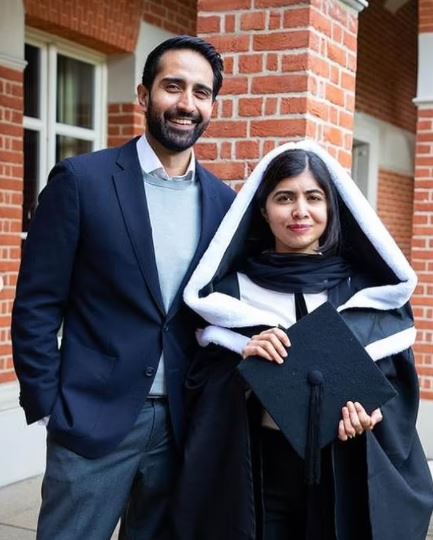 In September Islamists excluded girls from returning to secondary school in Afghanistan, but ordered boys and male teachers back to the classroom.
The hardline group ousted the US-backed government in August, promising a softer brand of rule than their repressive reign in the 1990s, when women were mostly banned from education and work.
But the diktat from the education ministry was the latest move from the new government to threaten women's rights.
Ms Yousafzai was shot in the head by a Taliban gunman at the age of 15 after campaigning for girls to be educated in her native Pakistan.
Miraculously, she survived and was rushed to Britain for medical treatment, and continued with her extraordinary work. It culminated with Malala becoming the youngest Nobel Peace Prize winner in 2014, at just 17.