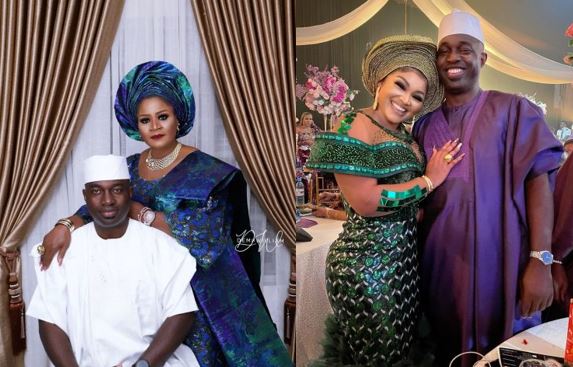 Mercy Aigbe's New Husband, Kazim Adeoti Biography – First Wife And Kids
Kazeem Adesoji Adeoti, popularly known as Adekaz, needs no introduction in the Yoruba movie industry. His work has endeared him to the hearts of many Yoruba movie fans. Adeoti is the founder and chairman of Adekaz Production Limited.  He speaks about his life in this interview
Early Life
Kazim was born some decades ago into the family of Alhaji Adeoti and Alhaja Adeoti; My parents are from a town called Orokun, Kwara State, Irepodun Local Government but he was given birth to in Lagos, Lagos Island, Lagos State. He grew up in Surulere, that's where his family house is. He went to Biodun Nursery and Primary School, Offa in Kwara State. He attended Oro Muslim High School Oro from there he moved to Nigerian Navy Secondary School, Ojo, Lagos. He ended up finishing my Secondary School at Surulere Secondary School Lagos, from there he got admission into Kwara State Polytechnic to study Business Studies. But same year he also got an admission into the University of Jos to study Business Management, he studied at University of Jos and finished in the year 2000. From there, he proceeded to the United States in 2001. He later went back to school and he got a license for being a Mortgage Broker. He was a Mortgage Broker throughout the years of his stay in the US
How He Ventured Into The Movie Industry
He shared this in an interview
I have always had passion for this job. I had a family friend or family member so to say. We always had family gatherings, not me and my family friend alone but our two families. We are one family so to say because we are from the same town, we grew up together, from the same neighbourhood, am talking about the family of the Afolayan's.  Alhaji Wasiu Afolayan, Chairman of Wasai Film, Kazeem Afolayan of Epsalum Production,  I learnt on the job back then, I went around with my friend, Almaroof to his brother's office, I used to meet some actors there then. I have always had a passion even job before I went to US.
While there, I always keep touch with my friends in Nigeria. In 2005, I got the name registered, Adekaz  Production Limited. I have a friend called Sheriff Ayanleke, he is also a childhood friend. He got the business registered on my behalf. He was my first manager and so I have always come back and forth from US like two to three times a year. In 2006, I shot my first movie titled 'Ona Laafin' produced by Jaiye Kuti. Then I wasn't even a marketer. I was not even a member of YOFIMAN and I think that was part of the reason why the association felt they should welcome me because of the things I have already put in place, the registration, even the registration with Nigerian Video Census Board.
View this post on Instagram
I have put everything in place so I told them I am interested in to belonging to Marketers Registration and Regional Distributors, so the chairman then was Elder Olalekan Olaoye and with the help of my friend, Almaroof Afolayan, who was actually the one who helped me out to get the registration done, I became a member.
Ever since  I started, we've been good. You know in business, in the first few years or so, things will be a bit rough before success story.
Well, the truth is that probably because you guys have seen the surface that is why you think it had been smooth all the way for me but I thank God for my life, I have faced a lot of challenges but the point is, I was so blessed. Relocating from US to Nigeria, there is every possibility that I could face challenges because I have seen and heard people that lived in the US trying to relocate to Nigeria, where at the end of the day, after a year or two, they ran back to US, so I didn't want mine to be like that because I had the opportunity to be in mortgage business, real estate in America, and I was able to secure few houses I got them through mortgage and I am collecting rent on a monthly basis so I felt that at least even if everything goes bad, even if I don't work, I can still live an average life with my family without any problem.
When I came, I faced normal challenges,  I got broke, so I had to go back to sell one of my houses, came back but because no one knew when I went and came back and what I did is to continue sustaining my business, everyone believes everything was the same but that was the turning point for me because the money really worked for me, something that is suppose to take years, I got it in a short period of time because I wanted to achieve the best, so I really pumped in a lot of money but the ripple effect was I got broke back but by the time I bounced back, I already knew the business way better than the initial stage and as such I was doing everything better.
First Wife And Kids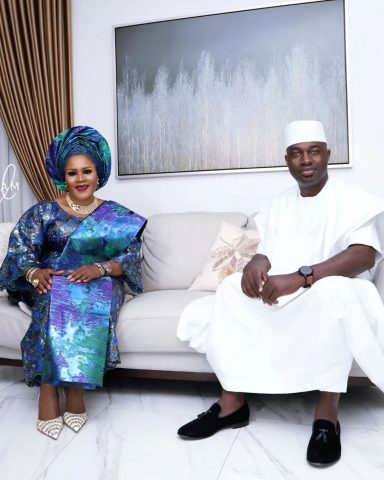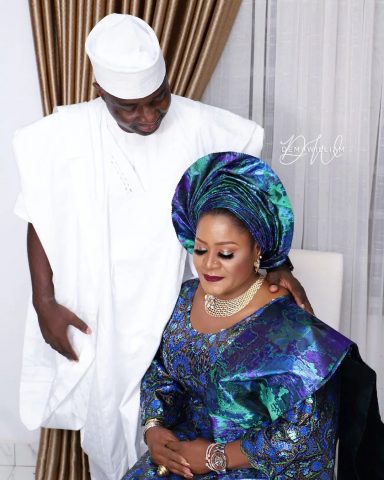 Kazim was married and has four kids with his first wife. Reports of their divorce is not known at the moment.
Relationship With Actress Mercy Aigbe
Reports have it that Mercy Aigbe got married to Kazim in December 2021 in a private ceremony in Lagos. On a post on her page the actress shared a photo of herself and husband with the caption:
"Alhaji and Hajia Kazim Adeoti 😍❤️
Still celebrating you my King! May you continue be celebrated all the days of your life!
Thank you for being my Peace, My Happiness ,May Almighty Allah continue to bless your path and uplift you beyond your imaginations "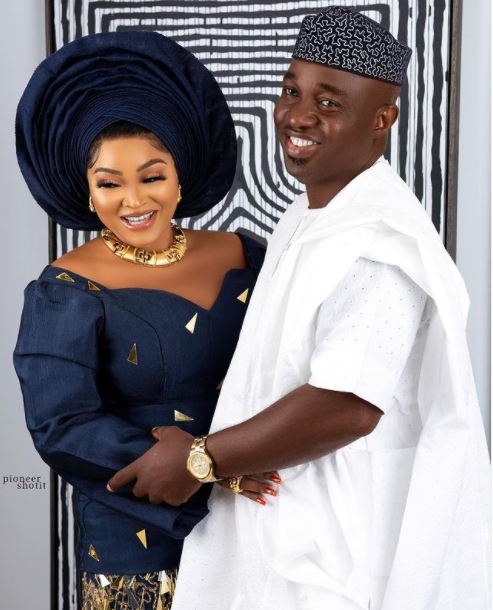 Reason for her new title Hajia Minnah because she married a muslim. Watch the video below:
View this post on Instagram
Net Worth
His net worth is not available at the moment.