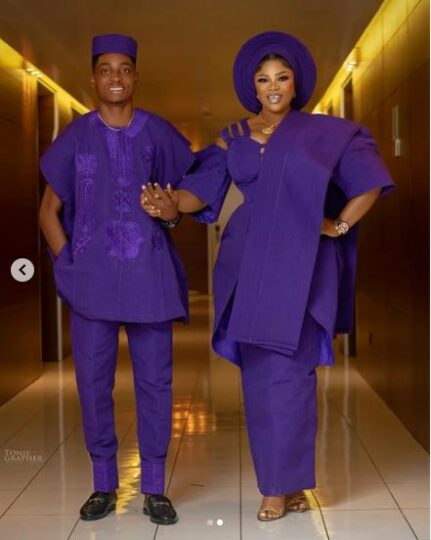 Actress Eniola Ajao shows off 20-year-old son, Ayomide Okikiola, in new photos

Yoruba movie star actress, Eniola Ajao is a proud mother, as she shows off her handsome son, Ayomide Okikiola Daniel on social media as he turns 20 yesterday, May 17, 2022.
For his birthday shoot, the proud mum and her son were adorned in matching purple Asoke ensembles.
While the birthday boy looked dapper in his monochrome Danshiki, his mum rocked a monochrome chic 'Iro and Blouse' style.
The screen diva in her appreciation note on social media gushed over her boy while thanking him for being amazing.
AYOMIDE OKIKIOLA DANIEL,To say I'm blessed to have you as my son doesn't even describe how much i cherish and Love you❤️ You're growing up to be such a kind, sweet and caring boy and I couldn't be any prouder💝
I will be forever blessed for being blessed with such a son like you Oko mi❤️
Thank you for giving me joy and peace of mind always🙏
May all your hopes,dream and aspirations come to manifestation as you begin this New year of your life.
God Almighty will continue to guide you, Protect you and guard you always🙏
Isaiah 40 verse 4 shall forever be your portion 🙏
Lines shall continue to fall for you in pleasant places IJMN🙏
HAPPY BIRTHDAY AYO MI❤
Mummy loves you deep my Amazing gift ❤🥰"