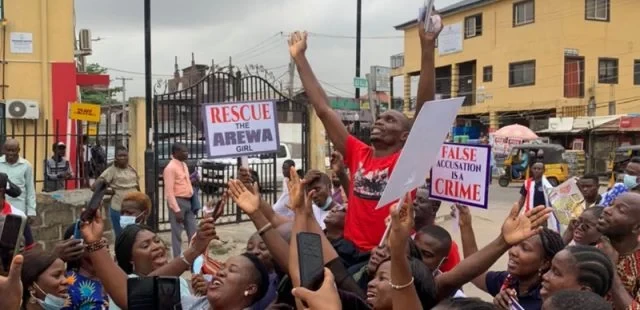 Jubilation as Lagos school teacher Adewale Bakare accused of defiling nine year old girl is released on bail (photos)
There was wild jubilation at the Ogba Magistrate Court in Lagos state today May 19, after a teacher at the Methodist Girls' High School, Yaba, Lagos, Adewale Bakare, who was earlier remanded at the Nigerian Correctional Centre, Kirikiri, for alleged sexual abuse of a nine-year-old girl was granted bail.
The 48-year-old teacher was accused of sexual abuse by the father of his pupil, Adebisi Arewa. Mr. Bakare however denied the allegation.
Mr Arewa, an associate professor at the Nigerian Institute of Advanced Legal Studies in Lagos had previously accused five teachers from the University of Lagos Women Society Nursery and Primary School, Akoka, and a driver, Abiodun Matthew of similar offenses leading to Mr. Matthew's life sentence in February by a sexual offenses court.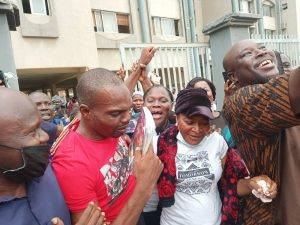 After challenging the case in court, Bakare was granted bail and was released today after he fulfilled his bail condition. The news elicited jubilation from a crowd who had gathered at the court premises.
Immediately Mr. Bakare came out of the Kirikiri Maximum facility, the jubilant crowd lifted him on their shoulders and sang praise songs, before the teacher was taken away by his family.
The crowd which included several activists also displayed placards, with the inscriptions on them reading, "False Accusation is a Crime," "Rescue the "Arewa Girls," Justice for Adewale Bakare," "Protect Our Children," and "No to Weaponised Rape Allegations."
Speaking to journalists, Bakare who has been a teacher for 21 years, denied the allegations against him.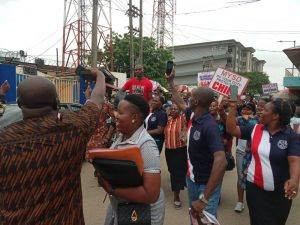 "It is noteworthy that Mr. Arewa has accused collectively more than five male and female teachers and aides of defiling his two daughters since 2019. As we speak, we have a teacher sentenced to life imprisonment in Kirikiri for allegedly defiling one of the daughters whom we shall call Miss O," Bakare's lawyer, Toyin Taiwo-Ojo had said.
Mr Arewa denied claims he was making a false allegation against the teacher.
The matter was adjourned to Friday, May 20.