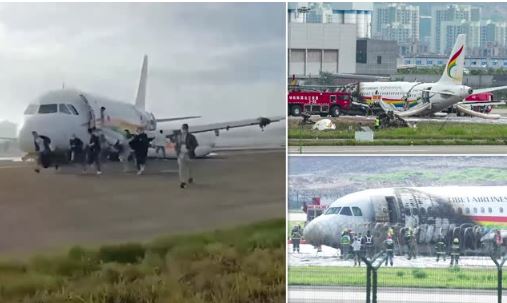 Moment a Chinese Airbus passenger jet carrying 113 people bursts into flames (Videos)
A Tibet Airlines jet carrying 113 passengers plus 9 cabin crew swerved off the runway and burst into flames midway through take-off.
Footage shows passengers evacuating on slides and sprinting across the runway moments before the Airbus A319 jet's left engine burst into flames this morning.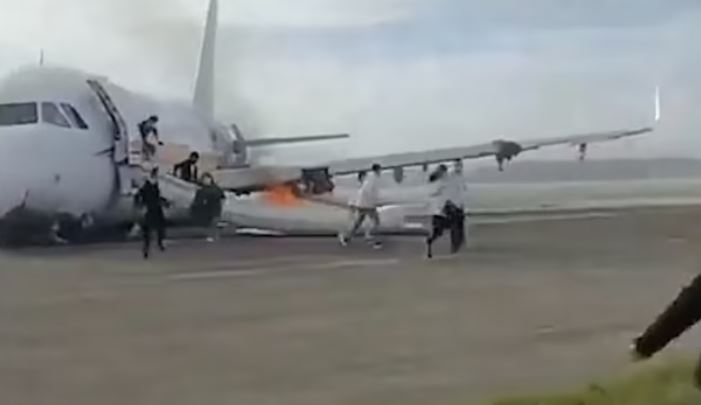 Though all 122 onboard made it to safety, 36 were taken to hospital with injuries.
Flight TV9833 was departing from south-western city Chongqing to Nyingchi, Tibet.
The news comes weeks after China Eastern Airlines flight 5735 crashed in the Guangxi mountains, killing all 132 onboard.
Latest video shared on Douyin, presumably by someone onboard #TV9833, shows passengers were first evacuating from L1 slide before fire erupted near the left wing and burning the front left side of the plane. pic.twitter.com/M4hUPvuy74

— FATIII Aviation (@FATIIIAviation) May 12, 2022
Tibet Airlines TV9833/A319/B-6425 from Chongqing to Nyingchi was on fire during take-off this morning, details still not known. CKG/ZUCK closed for now. pic.twitter.com/CPL47fmfVk

— FATIII Aviation (@FATIIIAviation) May 12, 2022
Airbus said it was aware of media reports about the incident and was making all efforts to assess the situation.
State-owned Tibet Airlines is a regional carrier based in Lhasa.
It has a fleet of 39 planes, including 28 A319s, according to Airfleets.net.
Evacuation slides, which can often cause minor injuries, were deployed, unverified photos posted to social media showed.