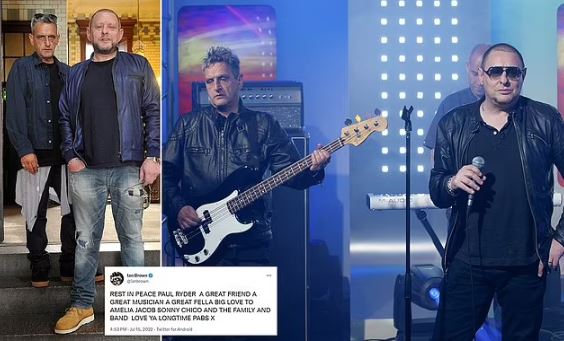 Paul Ryder dies hours before gig at Kubix Festival
Tributes have poured in for Shaun Ryder's brother and Happy Mondays bassist Paul who died suddenly aged 58.
The musician was found dead on Friday just hours before the band were due to play at Kubix Festival in Sunderland.
Shaun, 59, and Paul were the original founders of The Happy Mondays that first formed in Salford in 1980.
The group were a key part of the 'Madchester' scene and were hugely popular in the 1980s and 90s.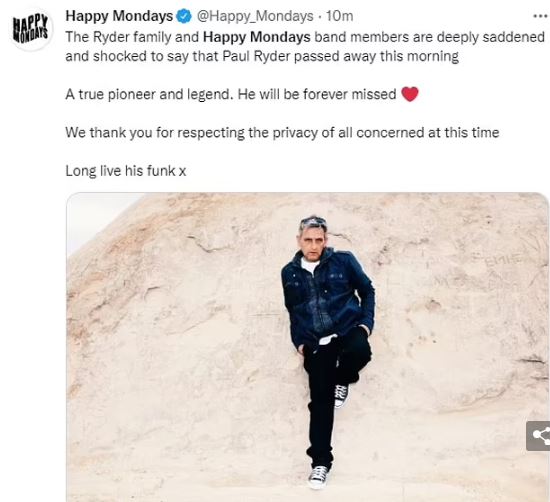 Many of Happy Mondays' contemporaries and fans paid tribute to the 'legend' bassist Paul.
Stone Roses frontman Ian Brown tweeted to his 177,000 followers:  'REST IN PEACE PAUL RYDER A GREAT FRIEND A GREAT MUSICIAN A GREAT FELLA BIG LOVE TO AMELIA JACOB SONNY CHICO AND THE FAMILY AND BAND LOVE YA LONGTIME PABS X'
Trainspotting author Irvine Welsh replied to brother Shaun online saying: 'Terrible news Shaun. All the best wishes to your family.'
Fellow bassist and co-founder of Joy Division and New Order Peter Hook said: 'What a shock… Paul Ryder was the archetypal solid, quiet, strong, dependable bass player.
'A lovely man – respectful & charming. When they got back together I remember seeing them play & he looked so happy. And they needed him back so much, he gave them soul & passion. RIP mate.'
Happy Mondays and the Ryder family announced Paul's sudden death on a Facebook post which said: 'The Ryder family and Happy Mondays band members are deeply saddened and shocked to say that Paul Ryder passed away this morning.
'A true pioneer and legend. He will be forever missed. We thank you for respecting the privacy of all concerned at this time.'