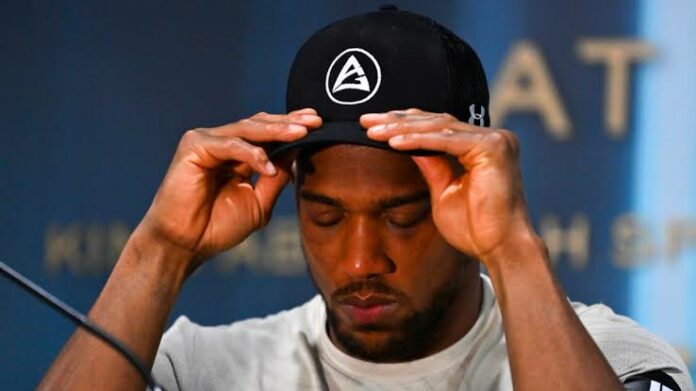 Anthony Joshua breaks down in tears during press conference after losing to Oleksandr Usyk (Video)
British-Nigerian boxer, Anthony Joshua broke down in tears in his post-match press conference on Sunday morning, August 21 after having a meltdown following his loss to Oleksandr Usyk.
Joshua, 32, suffered a second successive defeat to Usyk, 35, via split decision at the King Abdullah Sports City Stadium in Saudi Arabia on Saturday night and then in a surprising turn of events, threw the belts away, tried to lunge at someone from Usyk's team, walked out of the ring and then came back to give a bizarre rant questioning how he lost to Usyk.
In the post match press conference, the former champion got emotional in as he explained this was "from the heart" and came as a result of him being "mad" at himself.
Joshua said; "It's really hard for me to say I'm proud of myself. I don't feel anything . I'm just Well I'm upset like really, like deep down in my heart"
"When you're trying to do things from the heart and everyone is just not understanding. It was just from the heart. I was mad at myself. Not anyone else just myself.
"So I thought, I've got to get out of here because I'm mad. Like anyone, when you're angry, you might do stupid things.
"I was mad and then I realised, 'Oh s***, this is sport. Let me do the right thing and come back.'
"I just spoke from my heart. It's been so tough. You see AJ holding it together, yeah, and I'm a hustler so I try put things together. Try work hard and put things together and make sure my team's good.
"But it comes at a cost, a big cost. It'll never break me, but it takes real strength for it not to break me. And tonight, there's a little crack in the armour when I took a loss.
"And I think you just saw me just upset. And with the speech, I was just speaking about where I come from. I was on the roads, really.
🗣"I'm upset, really, deep down in my heart."

An emotional Anthony Joshua broke down in tears at the post-fight press conference after defeat to Oleksandr Usyk.

More 👇 #BBCBoxing

— BBC Sport (@BBCSport) August 21, 2022
Usyk on his end, said he has "nothing but respect" for his opponent.