Police spokesman says BNXN has questions to answer after he boasted about spitting on officer
Nigerian music star, BNXN, will have questions to answer after boasting about spitting on a police officer.
This is according to the spokesman of the Lagos State Police Command, Benjamin Hundeyin.
Hundeyin made this known via his Twitter page on Wednesday, August 17, 2022, while reacting to a tweet shared by the music star.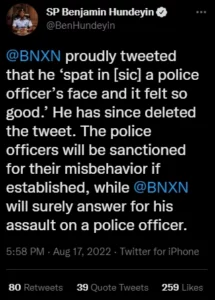 BNXN had shared a tweet where he boasted about spitting on the officer.
"Spat on the police officer's face and it felt good," he tweeted.
He has since deleted the tweet.