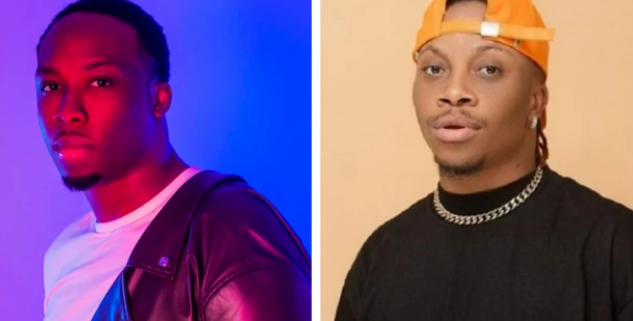 Drama as Oxlade and Melvitto engage in Twitter fight over copyright infringement
Nigerian UK-based multi-talented artist Melvitto recently got involved in a public disagreement with Afrobeats sensation Oxlade over the release of a new single.
Melvitto recently released a new EP he called 'Overdose' and included in the 6-track EP is single titled 'Folasade' which features Oxlade.
Controversy has surrounded the song's inclusion on the album as it appears the track wasn't cleared by Oxlade and his team,
While replying to a Twitter user who was wondering if Oxlade had cleared the song, Melvitto surprisingly revealed that the track was included without Oxlade's knowledge or consent.
Melvitto revealed that his decision was in retaliation for Oxlade's decision to shoot another video for 'Wait For You' without his permission.
After some back and forth now deleted tweets between the two artists, Melvitto claimed Oxlade asked his label to take down the song which led to the subsequent takedown of the EP from Spotify.
Melvitto revealed that he's working to get the EP back on Spotify after removing 'Folasade' which is the subject matter of the copyright infringement claim.
Oxlade decided to shoot another wait for you video without my permission or knowledge of. I found out on Trace Premiere. I returned the favour ♥️ https://t.co/7fSoXVmVZL

— mel (@melvitto) September 7, 2022
As expected, your boy told Sony to send a copyright claim. Bitchass move but I respect it.

Ovrdose. will be back on Spotify with 5 tracks shortly ♥️

— mel (@melvitto) September 8, 2022