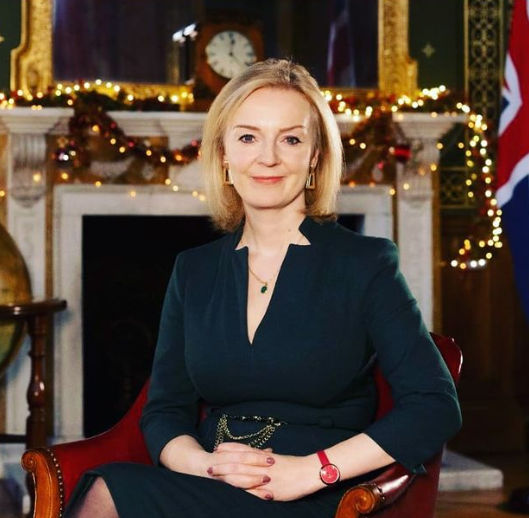 Liz Truss Biography – Age, Career, Family and Net Worth
Liz Truss formally entered politics in 2010 as a Tory candidate, winning the South West Norfolk seat and retaining it ever since.
TSB News reports that Britain's Conservative party Monday announced Liz Truss as its new leader to succeed Prime Minister Boris Johnson and confront Britain's deepest economic crisis in decades.
Mary Elizabeth Truss was born in Oxford in 1975. Her father, John Kenneth was a mathematics professor at the University of Leeds and her mother, Priscilla Mary Truss nee Grasby was a nurse. According to the BBC, Ms Truss played Margaret Thatcher in a school play when she was nine years old.
Age
Being born on 26th July 1975,  Liz Truss is 47 years old as of today, 5th September 2022. Her height is not yet known, and her weight is unknown.
Education
Her family moved to Scotland when Ms Truss was four where she attended West Primary School in Paisley, Renfrewshire, according to the Independent. After which she attended Roundhay School in Leeds. She studied politics, philosophy and economics at Merton College, Oxford in 1996.
Career
From 1996 to 2000, Truss worked for Shell, during which time she qualified as a Chartered Management Accountant (ACMA) in 1999. In 2000, Truss was employed by Cable & Wireless and rose to the economic director before leaving in 2005.
Ms Truss formally entered politics in 2010 as a Tory candidate, winning the South West Norfolk seat and retaining it ever since. After David Cameron resigned as Prime Minister in July 2016, Truss was appointed Secretary of State for Justice and Lord Chancellor by Theresa May, becoming the first female Lord Chancellor in the thousand-year history of the office.
Liz Truss is UK's 56th prime minister and the third female prime minister to lead the country. The previous female prime ministers – Margaret Thatcher and Theresa May – were also from the Conservative Party. She is currently serving as the Secretary of State for Foreign, Commonwealth and Development Affairs since 2021 and Minister for Women and Equalities since 2019.
View this post on Instagram
Family
Ms Truss married Hugh O'Leary, an accountant, in 2000 and the couple has two daughters.
Liz cheated on her husband. From 2004 until mid-2005, she had an extra-marital affair with married MP Mark Field, whom the Conservative Party had appointed as her political mentor. However, her marriage with O'Leary survived the affair.
She is still married to her husband.
Net Worth
Liz Truss has an estimated net worth of over $60 million.