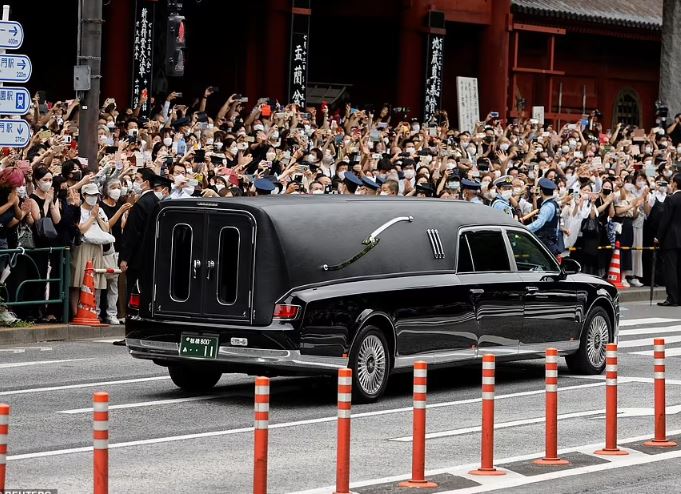 Shinzo Abe laid to rest at a private funeral (Photos)
Shinzo Abe, 67, was given his final farewells today at a private funeral service inside Tokyo's Zojoji temple.
Shinzo Abe – Japan's longest-serving, best-known and perhaps most-consequential leader of modern times – is being laid to rest today in a private funeral in the capital Tokyo.
Friends and family gathered inside the city's Zojoji temple – an historic and cultural landmark that houses the bodies of generals from the Edo period – early Tuesday for the ceremony.
Akie Abe, 60, the former prime minister's widow, then emerged – riding in the front seat of a hearse that carried her husband's body past crowds of mourners thronging the streets outside the temple.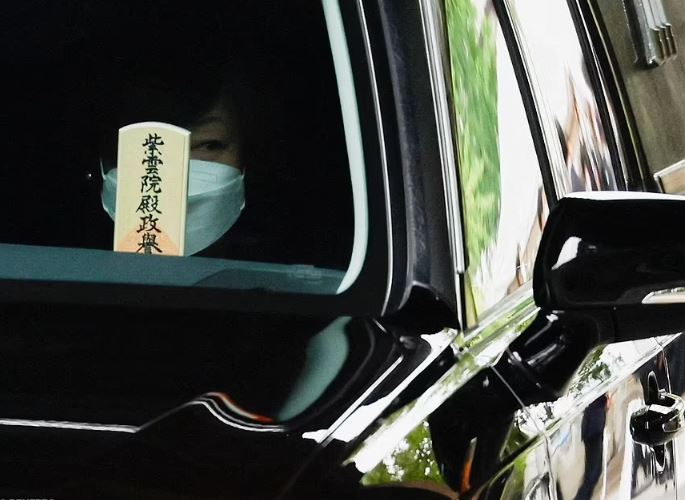 Most held up their phones to capture the moment, but some clasped their hands in prayer, bowed their heads, or shed a tear as a mark of respect for the great man.
In front of her face, Akie clutched an 'ihai' or 'spirit tablet': A piece of wood that is typically inscribed with the deceased's name, date of birth, date of death, and – in the case of notable public figures – often a posthumous name that reflects their social standing and life achievements.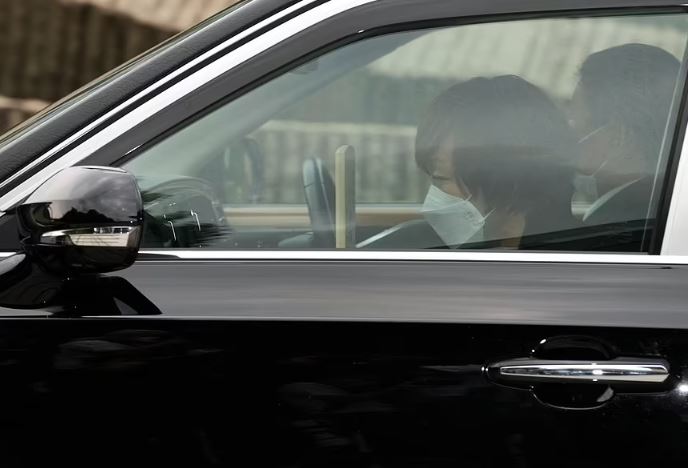 From the temple, Abe's body was taken across the city to the Kirigaya Funeral Hall where it was cremated in keeping with Buddhist tradition. Along the way, it travelled via parliament, the prime minister's office, and Liberal Democratic Party headquarters so his former colleagues can pay tribute.
No plans for a public funeral have yet been announced, though it is expected that Abe will be given some form of state ceremony as a mark of respect for his lifetime of public service.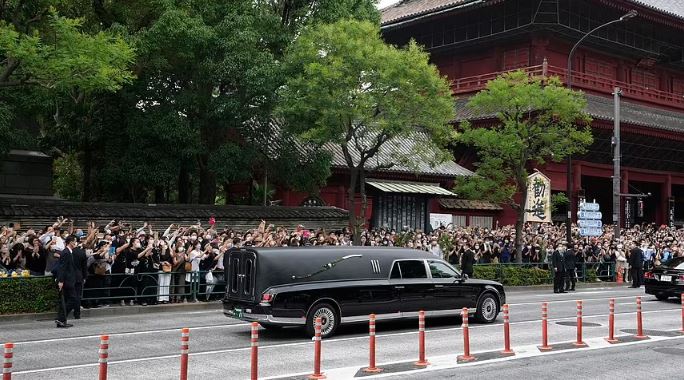 Shinzo Abe, who served as prime minister between 2006 and 2007 and then again from 2012 to 2020, was killed last week while campaigning in the southern city of Nara after being blasted by a home-made shotgun.
Tetsuya Yamagami, 41, has admitted killing the politician – saying he targeted him because he believes Abe is a member of the South Korean Unification Church, more commonly known as the 'Moonies'.
Yamagami says his mother is a member of the church – known to some as a cult – and has financially ruined the family by making donations to them. The church has confirmed she is a member, but has not shared any information on money she donated.